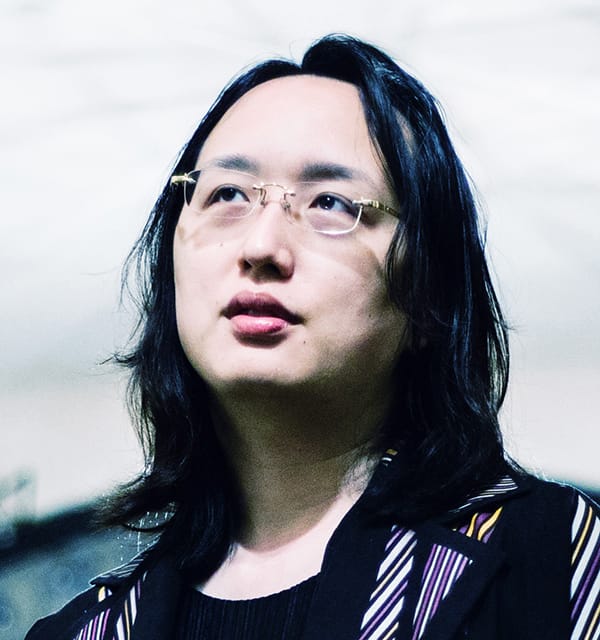 Audrey Tang is Taiwan's digital minister in charge of moda (Ministry of Digital Affairs).
Audrey is known for revitalizing the computer languages Perl and Haskell, as well as building the online spreadsheet system EtherCalc in collaboration with Dan Bricklin.
In the public sector, Audrey served on Taiwan national development council's open data committee and the 12-year basic education curriculum committee; and led the country's first e-Rulemaking project.
In the private sector, Audrey worked as a consultant with Apple on computational linguistics, with Oxford University Press on crowd lexicography, and with Socialtext on social interaction design.
In the social sector, Audrey actively contributes to g0v ("gov zero"), a vibrant community focusing on creating tools for the civil society, with the call to "fork the government."
---
オードリー・タンは台湾数位発展部(デジタル省)を担当する、台湾のデジタル大臣です。
オードリーは、コンピューター言語である Perl と Haskell を再活性化させ、同時にダン・ブルックリン氏と共同でオンライン・スプレッド・シートである EtherCalc を構築したことで知られている。
公共部門に於いては、オードリーは台湾の国家発展委員会のオープンデータ委員会委員及び国民基本教育(小学校から高等学校まで)のカリキュラム委員会の委員を務め、台湾の歴史上初と試みであるネット規則制定プロジェクトを主導している。
プライベート部門に於いては、アップル社でコンピューター言語についてのコンサルタントとして仕事をし、オックスフォード大学出版とは集合辞書編集について、ソーシャルアルテックスとは社会的相互デザインについて仕事をしていた。
社会的部門では、"fork the government."(政府の再構築)を合言葉に、市民社会実現の為の創造的ツールに焦点を当てた活気あるコミュニティである g0v(ガバメント・ゼロ)に積極的に貢献している。
---
Principles for Handling Official Visits to Digital Minister, Audrey TangPDF
Data Source:
Ministry of Digital Affairs